** MAIN **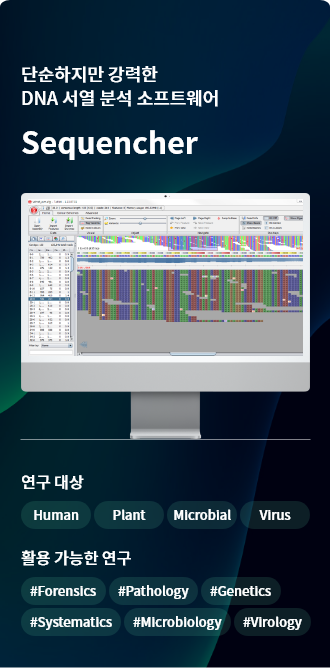 단순하지만 강력한 DNA 서열 분석 소프트웨어
Sequencher
DNA, RNA 및 단백질 서열 데이터 분석까지
심플한 인터페이스로 Sanger sequencing 데이터뿐만 아니라 NGS, RNA-seq 데이터들까지
쉽고 빠르게 분석할 수 있습니다. 강력하면서도 간단한 분석을 통해 visualization 된 표와 그래프, 리포트 등을 제공합니다.
** MAIN END **
** ADV **
NGS data analysis
RNA-seq
Sequencher connections tool
Sequence assembly
Variance table & Translated variance table
Plugins
** ADV END **
** FUNCTION **
주요 기능 소개
Sequencher는 Sanger sequencing 데이터의 분석과 NGS 및 RNA-seq 데이터의 분석을 직관적으로 수행할 수 있습니다.
또한 Connections 기능을 통해 병렬로 여러 분석이 가능합니다.
Sequencher의 다양한 기능을 확인해 보세요.
** FUNCTION IMG TABLE **



Sanger sequencing

Sequence editing
Sequence trimming
Sequence assembly
Assemble to reference
Multiple-Sequence alignment
Restriction mapping
Confidence values
SNP detection
Automated analysis




Next-Generation sequencing

FastQC quality control reports
RNA-seq
De novo assembly
Reference-Guided alignment
Variant Calling with SAMtools
Multiplex ID
SNP analysis
Methylation studies
RNA-Tolerant alignment




Regulator effects analysis

Customize your workspace
Find amino acids
Variance table
Translated variance table
Reports




Downstream effects analysis

BLAST and Local-BLAST
Primer-BLAST
MUSCLE and trees
** FUNCTION IMG TABLE END **
** FUNCTION END **
** RESEARCH-Ex **
적용 사례
Sequencher가 연구에서 어떤 역할을 하는지 확인해보세요.
** RESEARCH-Ex END **
** system **
시스템 요구사항
지원 운영체제

Windows 운영체제

Windows 8 이상 (64-bit only)

프로세서

64비트 OS 및 Java와 함께 2GHz 이상에서 실행되는 CoreTM i5 프로세서 또는 동급

메모리

3GB RAM(* NGS 데이터로 작업하려면 더 많은 메모리가 필요합니다.)

** BWA, Cufflinks suite, Velvet : more 8 GB RAM

** GSNAP : more 16 GB RAM

디스플레이

최소 1080 x 800 display 필요
** system END **